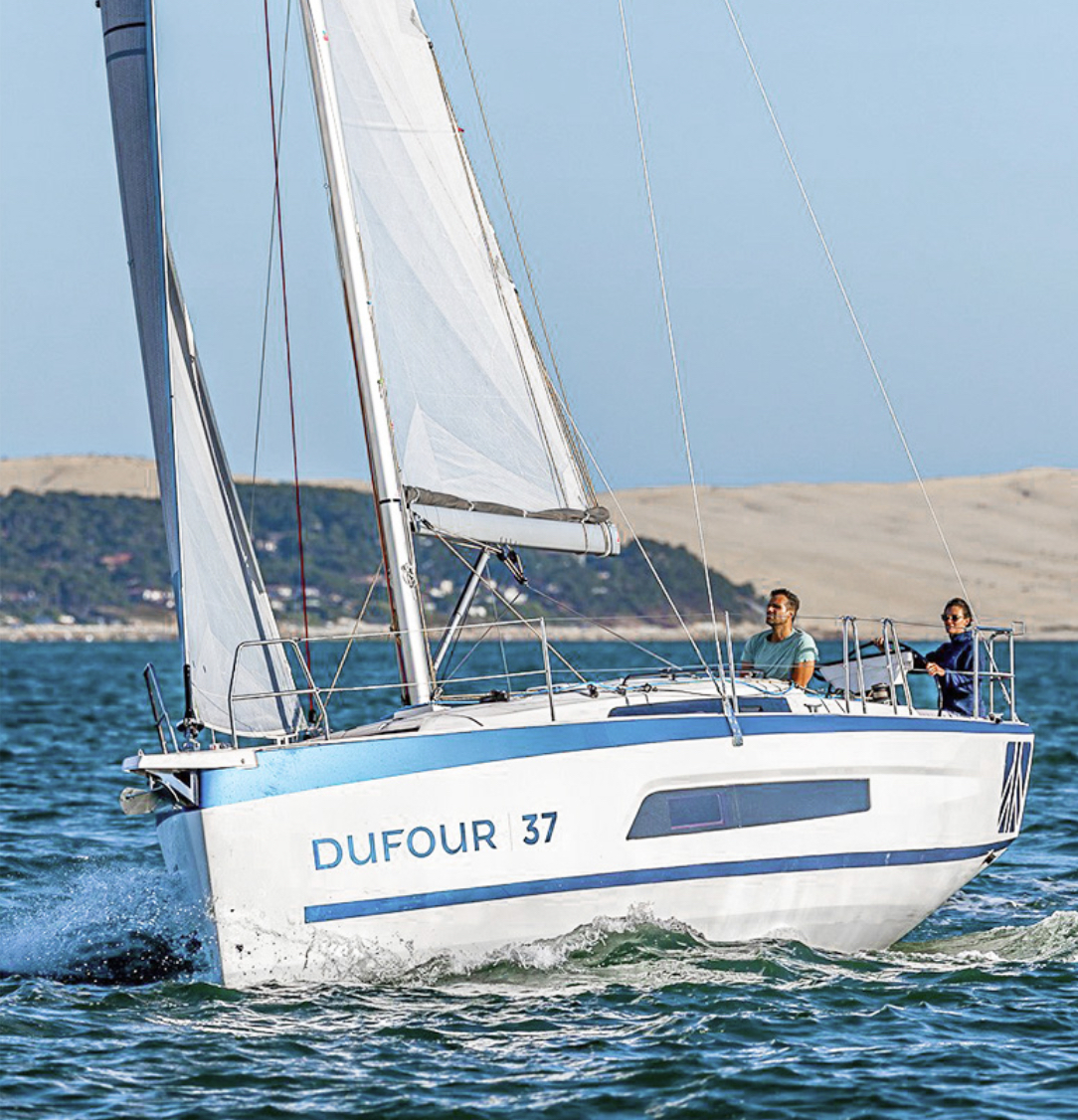 NEW Dufour 37
Sleek and beautifully proportioned, the new Dufour 37 is instantly recognisable with its raked mast and large hull windows which mirror the shape of the windows on the sides of the coach roof. Combined with the twin pods angled in from the sides of the cockpit, and a single rudder, the overall effect gives a feeling of speed – a little bit racy on the edge.
Built using the infusion process for correctly controlled weight and greater strength, the yacht benefits from a modern and stable hull similar to offshore racing boats, but with a slightly rounded lower hull that favours her passage through the water. This new hull form allows for a more advantageous power/weight ratio and offers an improved experience to the helmsman on all points of sail.
On this new model, and particularly in comparison with other models in her size category, the mast has been lengthened to give increased sail area and make this yacht even more powerful. Sails are configured with a fully battened main plus a self tacking jib with of course the option of a furling genoa and Code 0.
But the Dufour 37 packs in a lot more in than just a streamlined appearance and the promise of some great sailing.
Starting from the large swim platform at the back, the plancha and sink that comprise the exterior galley, the spacious cockpit, twin -zone bimini and the foredeck 'bain de soleil', this yacht is built for enjoyment. Add to this the neat life raft stowage area beneath the plancha, the centre aft seat with comfortable back rest, four winches, stainless steel handrail on the coachroof and the now familiar Dufour 'delpiniere' on the bow and you have a yacht worthy of some attention.
In the new Dufour 37 a clever use of the interior space has created a master cabin with an island bed, something previously unheard of on a yacht under 11m. This feeling of space is amplified by the double opening doors and plenty of head room throughout, as well as the natural daylight which pours in through the skylights and roof hatches. A traditional L-shaped galley features white eye line cupboards which differentiates this area from the saloon and also adds to the bright look and feel. This arrangement allows for two long sofas in the main seating area offering a great dining setup as well as an additional double bed.
Choose the 2 cabin version of this yacht and you get a 2m x 2m bed aft as well as an astonishingly roomy bathroom worthy of a vessel double this size plus a huge locker and a modest chart table/desk. Choose the 3 cabin version if you are after more sleeping accomodation.
And finally don't forget – the Dufour 37 comes in three versions Easy, Ocean and Performance to suit any sailing lifestyle.